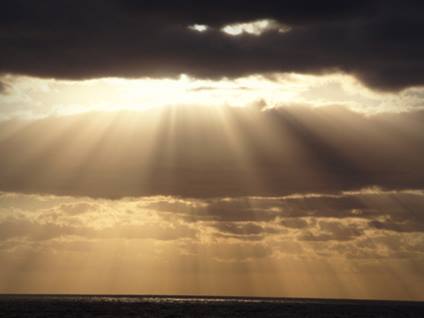 Back in Vietnam my squad and I wrote our own version of Psalm 119.
Each verse in Psalm 119 starts with a letter in the Hebrew alphabet. We followed the same pattern with our alphabet. Each team has their own "chapter" that they were responsible for writing. It is a bit long, but I promise you, it is worth it. It will give you a good glimpse of what kind of people I have the privilege to do life with and the life we are striving for as a body of believers.
Chapter Shema
Alpha and Omega, the Beginning and End.
All we are is found in You.
Anchoring our souls in the waves of Your love.
Abiding in the goodness of Your grace.
And only one thing we seek, to dwell in the house of the Lord
All the days of our lives
As we wait in anticipation, knowing.
Above all, You are.
Behold, the heavens declare the glory of God.
By the word of the Lord, the heavens were made. Their starry host by the breath of His mouth.
"Beloved", You call us by name, perfect and complete.
Breaking the chains of our flesh in habits.
Blessed are we for You set us free!
Because You first loved us we are able to walk in boldness.
Becoming sons and daughters You created us to be.
Bravely declaring the Word of the Lord.
Christ our King, and our Lord.
Crucified You redeemed our sins allowing us to be born again.
Condemnation is no longer part of our lives, shame no longer defines us.
Calling us higher to walk in Your Spirit and
Continuously we seek to serve through Your love.
"Come follow Me", You said,
"Carry your cross."
Completed and finished is Your victory over death.
Chapter Bloom
Declare the Name of the Lord to all the witnesses.
Do not forget His great faithfulness.
Depend fully on His mercy and grace.
Desire more of His Spirit, always.
Devote yourselves wholeheartedly to prayer.
Dedicate your ways to Him.
Dwell in the house of the Lord daily.
Do not forget His great faithfulness.
Endure all trials with steadfast faith.
Enemies will come but God has already won.
Endlessly approach His throne when sorrows swallow you whole.
Empty hands lifted high are ready to receive the Lord's blessings.
Exalt His Name, near and far.
Exclaim His wonders.
Earthly possessions will soon be forgotten.
Endurance in the Lord will bring the crown of life.
Flourish in full bloom for we are His daughters.
Fear has no choice but to flee at the mention of His name.
Free from bondage, you are already forgiven.
Forget not His promises.
Face the enemy with God's all-surpassing power.
Faith is an action, not a feeling, so jump.
For the fullness of joy is found in being fully who He says you are, so
Flourish in full bloom for we are His daughters.
Chapter Zion
God You are good.
Great is Your love throughout all generations.
God You are matchless.
Great is Your Name above all names.
God You are infinite.
Galaxies proclaim Your majesty into eternity.
God You are glorious.
Glory is Your declaration and wonder is our response.
Hear my hearts cry, oh God.
Help me in my darkest hour.
Heal my downtrodden spirit.
Hungry am I for Your all-consuming presence.
How vast is Your love for us.
How marvelous is Your name.
Heaven declares your Hallelujah.
Hallelujah is the Lamb.
Chapter Chayah
Joy, unthinkable joy, your joy is my strength.
Jealously demanding as the grave; You are enough, You are enough.
Joyously I lift my hands in surrender, You alone order my steps.
Justified by Your blood, I am victorious in Your love.
Joy, unthinkable joy, You came to earth in search of me.
Jumping and dancing when you call my name. Freedom reigns, freedom reigns.
Joyfully I kneel weeping at Your feet. Your greatness surpasses all understanding.
Jesus, Jesus my joy unthinkable.
Kindness and goodness overflows from Your presence. I have everything I need in You.
Kindle the fire within so that I may abide in Your presence.
Knock down the walls, the walls of my heart. I want to be totally known by You.
Know my heart, oh Lord, as I am chasing after You. You are my one desire.
Keep me in the palm of Your hand, far away from all of Satan's schemes.
Kings on earth have selfish ambitions, but Your love invites me to a feast at Your banquet table.
Knees will bow at the sound of Your great name. Nations will sing Your praises forever.
Kingdom come so that I may live in the fullness of who You are. I want all of You.
Lord, Your love is immeasurable.
Lavished over all the earth.
Let me linger in Your goodness and faithfulness.
Let me dwell in Your promises with laughter and joy all the days of my life.
Lead me in Your way everlasting.
Lead me down Your perfect path.
Lead me to love You deeper and seek You with my whole heart.
Let me rest in Your presence all the days of my life.
Chapter Jubilee
Maker of Heaven and Earth, we love to sing Your praises.
My heart declares Your infinite glory.
Momentary glimpse into the depths of Your love refresh my soul. All of creation, including the
Mountains bow down in humble submission.
My heart will also do the same, I see Your
Majesty and I will remember the faithfulness and
Miracles which You have promised us.
Maker of Heaven and Earth, we love to sing Your praises.
Never, Father, will You forsake me.
Never will You leave my side.
Never will I walk alone through a valley
Night and day I will abide.
Never Lord will I cease to praise You.
Never, will I doubt Your love.
Never will my foundation be shaken.
Nothing will cause my eyes to wonder; my grace is fixed on You above.
Oh, how great are You Lord. How I long to be like You.
Open my mind to comprehend Your greatness.
Open my eyes to see people like You do.
Open my mouth to speak love and truth.
Open my hands so that I may give all that I have to You.
Open my ears to listen to Your voice.
Open my heart to love more like You.
Oh, how I long to be with You all the days of my life.
Chapter True North
Praise the Lord who is faithful.
Patiently we wait for His Kingdom to come.
Praise the one who seeks after the lost,
Precious are they in His eyes.
Praise Him whose promises I cannot break,
Peace floods my soul because I trust in Him.
Powerful is He in His pursuit of me.
Perfect love washed away fear.
Redeemer, You are worthy of praise.
Righteous Savior, You are my portion.
Reverently I enter into Your presence.
Resting in Your promises, I remain.
Rejoicing in Your eternal pursuit.
Resting in the delight You bring.
Refine my soul, oh Lord.
Remember me and let Your favor fall.
Shares of sin entangle us,
Sorrow floods our souls.
Selfishly the desires of our flesh overcome us,
Songs of sadness enter our hearts.
Suffering through tribulation, we
Seek truth in the world but find it only in The Word.
Sin no longer binds our souls.
Sufficient is Your grace.
Chapter Joy
Through the trials
The Lord's goodness
Testifies His faithfulness.
Thoughts of praise are all around me.
Trouble hearts no more.
Thanksgiving erupts a song of joy.
Treasure is built up in Heaven
Through God's loving grace.
Victorious we stand,
Valued by our Heavenly Father.
Vessels for His kingdom work,
Very sure of His love for us.
Victims are we no more.
Valleys of hope we walk in.
Vast is Your love Oh Lord,
Visible signs of Your miracles.
Wholeheartedly I come to You,
Weight lifting off my soul.
Whisper Your love Oh God,
Wrap me with the Holy Spirit.
We call ourselves Wonder Church because
We seek after one thing.
Wonderful it is to dwell in the house of the Lord all the days of my life.
Chapter Leadership
Yelling Your love for me while whispering to my soul.
Yahweh, I call upon Your Name in my darkness,
Yet Your goodness remains.
You have captured my heart within Your kindness.
Yearning after You I lay down my own wand and follow after You with all my heart, mind, and soul.
Your love satisfies the depth of my soul.
Yes, I will follow You always, I will continue to seek after Your heart.
Yeshua my king, may Your reign be eternal and Your kingdom everlasting.