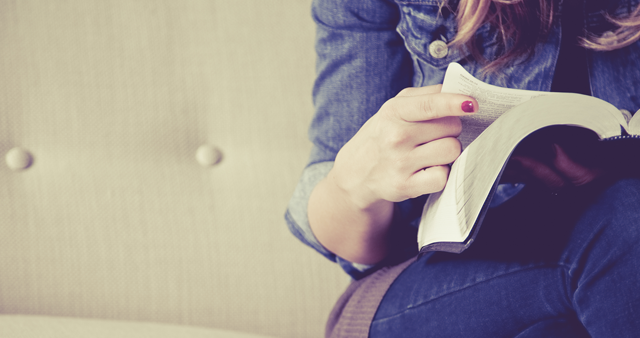 As Pastor Sherm taught us how to Go Deeper into Psalms this past Fall, God took me into a deeper understanding these past months – into discovering the Stronghold of the Lord.
"I love You, Lord, my strength. The Lord is my rock, my fortress, and my deliverer, my God, my mountain where I seek refuge, my shield and the horn of my salvation, my stronghold. I called to the Lord, who is worthy of praise, and I was saved from my enemies" (Psalm 18:1-3, HCSB).
God is our stronghold! He is our safe place. And He resides inside us! We don't have to wonder where He is. We don't have to go looking for Him. He's not going anywhere. But more than that, He has every resource we will ever need – an infinite supply of strength, safety, hope, peace, joy, and satisfaction. With these things in abundance, what more could we possibly want?
Have you learned how to seek the Lord in the stronghold that is your soul? Have you learned how to turn your heart away from the distractions of the world and seek His face, to seek your place at His feet? He's waiting there for you, and He is more than able to satisfy your every need.
"For I know the plans I have for you"—this is the Lord's declaration—"plans for your welfare, not for disaster, to give you a future and a hope. You will call to Me and come and pray to Me, and I will listen to you. You will seek Me and find Me when you search for Me with all your heart. I will be found by you"—this is the Lord's declaration" (Jeremiah 29:11-14b).
Seeking the face of God is a spiritual activity. "God is Spirit, and those who worship Him must worship Him in spirit and truth" (John 4:24, HCSB). We don't seek Him with our physical presence at Church. We seek Him in the spiritual place of the soul. God promises to respond when we draw near to Him in this way. Drawing near to God in the stronghold of the soul is a process that produces amazing results. It is the process by which His desires become my desires. It's the process by which His will becomes my will. And when that happens, oh yes! I get exactly what I want! The more I discover God in the stronghold of the soul, the more I bask in His presence and delight in His impossibly strong hold on me.
'May Yahweh answer you in a day of trouble; may the name of Jacob's God protect you. May He send you help from the sanctuary and sustain you from Zion. May He remember all your offerings and accept your burnt offering. Selah May He give you what your heart desires and fulfill your whole purpose. Let us shout for joy at your victory and lift the banner in the name of our God. May Yahweh fulfill all your requests" (Psalm 20:1-4, HCSB).

Note: Carol is teaching a Bible study this semester called Engaging with Scripture about the Stronghold of the Soul – discovering it for yourself. Get involved in any of our Bible studies on Sundays or Wednesdays:
http://trinitybible.com/connect/adult-bible-studies/