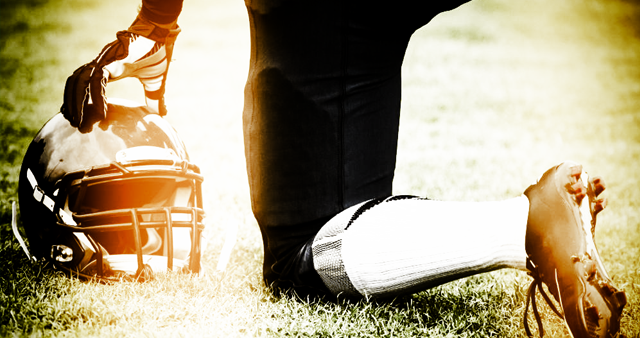 Should a Christian #takeaknee?
If you've been living under a rock lately, you would have missed the fact that there has been a national ruckus related to kneeling. On August 14th and 20th of last year, during the first two NFL preseason games, Colin Kaepernick began sitting during the national anthem. Nobody noticed. On August 26, during the 3rd preseason game, Kaepernick again sat. This time, people took notice. A picture of Kaepernick sitting was tweeted out by blogger, Jennifer Lee Chan and the story gained nation wide attention. Kaepernick later explained that he sat because of "the oppression of people of color and ongoing issues with police brutality."
Fast forward to Friday, September 27th, 2017, the POTUS responds by calling anyone who "disrespects our flag", in the way Kaepernick did, should be fired. The response to the President's comments were obvious this weekend, as individuals and entire NFL teams followed suit in Kaepernick's protest.
These events have set off an absolute firestorm on social media and the news. Many people are left wondering what to think about the whole situation. What I hope to do with this article is to bring clarity to believers on how we should think about this particular issue.
What makes this situation hard is the fact that people are so divided, even in the church, on this issue. One can resonate with the desire to bring attention to injustice but also that doing so during the anthem maybe isn't the best time.
If you were expecting this to be an opinion paper where I pick and defend a side then you will be disappointed. While respecting your country in a Romans 13 kind of way is important and while bringing attention to social injustice in an Amos 2 and 6 kind of way is important, my hope is to point you to a bigger reality.
The bigger reality is that the gospel is the answer for both sides of this argument. If you want social justice, the only way to end racism or abuse of power is the gospel (Galatians 3:28). The gospel also shows us how we should view our country. America is not the "city on a hill" but Romans 13:1-7 tells us that we should be subject to, and pray for, our governing authorities. The gospel is the way to both.
My prayer is that we would be a people who see all of life through the lens of the gospel. Only then are we ready to react in a way that loves God and loves people. So before we post on social media or open our mouths in conversation, let us be people who stop and think about how the gospel relates to an issue. My prayer is that we don't sacrifice the gospel on the altar of America. Let us focus on the kingdom that will never pass away, where justice reigns and we are governed by the King of Kings.
Isaiah 45:23 reminds us that there will come a day when everyone will #takeaknee. For some, it will be a joyful expression of surrender but others will be forced to their knees by a holy God. Lets strive to see more people joyfully kneel on that Day. Lets be people who look forward to that Day. Let us be people who prepare ourselves and prepare others for the day when everyone will take a knee.
The gospel is the single greatest creator of unity available. If you want unity, peace, and justice, preach the gospel.