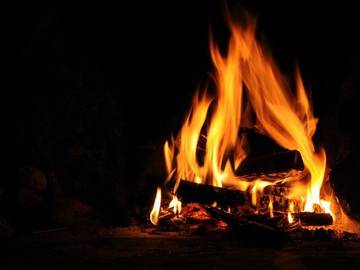 The wood has been stacked carefully around the small ball of paper. Kindling has been carefully laid on top, between the larger pieces of wood and the paper. A small match is set to the paper. Initially flames burst forth. The paper burns up quickly, lighting some of the kindling. If the fire is to be really started, though, help is needed. As the kindling crackles and smoulders, it seems the fire has ended before it has begun. Then someone kneels down and begins to blow on the young fire. The crackling increases until suddenly flames burst forth and begin setting all the wood alight. The flames twist around the kindling and wood. They are the sign the fire is burning healthy.
Our own walk with Christ seems to follow this pattern. We have moments of intense fire, followed by a stumbling, and then a resurgence and a refocusing on His Kingdom. We need to earnestly seek the flames, the fire for the Kingdom work. Leaders are just as, if not more, vulnerable of falling into this cycle. Regardless of experience, we all go through a season where we need encouraged. New Christians and new leaders may relate better to the illustration above. They are excited initially, then are overwhelmed by the enormity of the task before them. They need the encouragement of others to get past this hurdle. Consider also that those who are already in positions of leadership will go through this cycle. The imagery of their fire may be the smouldering embers of a once roaring fire. But here too, encouragement can rekindle the flame.
Consider 2 Timothy 1:6 (NASB):
For this reason I remind you to kindle afresh the gift of God which is in you through the
laying on of my hands.
Here Paul is reminding Timothy to work with his gifts and to use them for God. Those serving as leaders must do the same. They must use their gifts and seek to hone their skill for the glory of God. But it is hard to do this when things seem to fall apart or when we just don't know the answer. We must seek to be encouraged in our faith and work for the Kingdom.
We must seek this encouragement to ensure our feet are set on a firm foundation. That foundation must be and can only be Christ. We must seek His Words and His Kingdom. God's truth has to be our foundation, lest we be washed away by the flooding troubles of this world.
48 he is like a man building a house, who dug deep and laid a foundation on the rock; and when a flood occurred, the torrent burst against that house and could not shake it, becauseithadbeenwellbuilt.4 9 Buttheonewhohasheardandhasnotacted accordingly , is like a man who built a house on the ground without any foundation; and the torrent burst against it and immediately it collapsed, and the ruin of that house was great." (Luke 6:48-49 NASB)
We must also seek the right foundation to ensure that we are not relying on ourselves. As leaders, whether at work, at home, or in the church, it is not by our power that anything is accomplished. It is through Christ and for Christ that we work. Paul reminds us of that in 1 Corinthians 3:11 (NASB):
For no man can lay a foundation other than the one which is laid, which is Jesus Christ.
Christ is the foundation. Our actions and our reasons for doing those actions must reflect this firmest foundation. Those in leadership roles must be self-aware. They must know when they have slipped or are slipping off this foundation.
The trials of this life, the burdens of work, our own apparent failings are all reasons we may lose our footing. You must guard against this. Walk with other leaders through mentorship, both formal and informal. Find regular time to just be with our Father. Don't just do devotions because you want to check it off a list or because you need the source material. Spend time in devotion to be encouraged by the Holy Spirit. Quiet your own heart and mind and let the loving Hands of the Father help you set your feet back on the Firm Foundation. We all seek the flames in our spiritual work, but we don't make the fire. A roaring spiritual fire is not a person's accomplishment, but rather a sign of someone who has quieted themselves for God. God has given us a fire in our souls, let Him fan the flames.