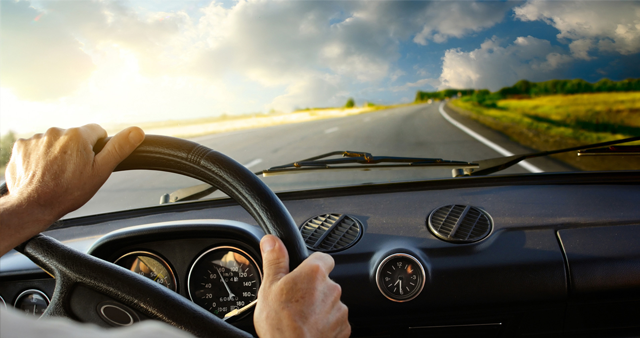 Rushing Back to Square One
It's the end of a long, long day. November is almost done, and Christmas is on the way. I'm exhausted from Thanksgiving, but there's still so much to do. As I get in my car to head home, I begin a mental list, and take a moment to solve a dilemma that's been teetering on the edge of my mind all day. About 15 minutes later, I realize I've been driving without paying much attention. I've missed my exit, and I'm headed out of town. Where's my brain! I think I left it in the parking lot at the last place I stopped!
Can you relate? As I take the next exit, I tell God, "Wow, I've really lost my focus." And I hear His still small voice saying, "You've lost your focus in more ways than one."
Alone in the car is one of the few places where I can give God my undivided attention; and when I have a thought like that last one, I know it's time to tune out of the world and tune into the One who should have been my focus in the first place. So I turn down the radio, and in the quietness realize that I've made it through the entire day without thinking of God even once. I left the house in a hurry, without breakfast and without a quiet time alone with Him. I've been chasing after my own agenda for hours. No wonder I'm in the wrong place, lost and exhausted.
It's difficult to focus on the Lord when my mind is filled with my own busyness. It's impossible to focus on Him with so many distractions. I have to physically turn down the noise and spiritually lay down all the stuff that has become so important in my day. It's a mental process that is accomplished through prayer. And as I mentally lay down all of the stuff that's weighing on my brain, the Holy Spirit reminds me of the Rich Young Ruler (Mark 10:17-22).
I love it when the Holy Spirit gives me a "rabbit" to chase. When He brings the Word into my mind, I know He's got something good in store. I can easily see my resemblance to this man who was so concerned with good works, so I pull into the next parking lot to look this one up (Thank you Jesus for an online Bible!).
This young man wanted reassurance. He didn't want to miss Heaven, so he took his worry to the Good Teacher. Let's tune in and see what happened.
"'Why do you call Me good?' Jesus asked him. 'No one is good but One – God. You know the commandments: Do not murder; do not commit adultery; do not steal; do not bear false witness; do not defraud; honor your father and mother.'
He said to Him, 'Teacher, I have kept all these from my youth.'
Then, looking at him, Jesus loved him and said to him, "You lack one thing: Go, sell all you have and give to the poor, and you will have treasure in heaven. Then come, follow Me." But he was stunned at this demand, and he went away grieving, because he had many possessions."
After reading this passage, I have a question for you. During this blessed Christmas season, how much time do you spend thinking and planning good works for your family and friends? It's so easy to be absolutely consumed by thoughts of doing good. The Bible tells us to do good things for others, so it's easy to feel good about doing good (James 2:14-17). Yet when Jesus looked at this man who was so consumed with his own good work; He loved him, and told him it wasn't enough. He had his heart in the right place. He wanted to do what was right, and Jesus loved him for it; but it wasn't enough. Good works without a proper foundation are useless.
Jesus told our young friend that "one thing" was missing; and it reminded me of the "one thing" that David pursued (Psalm 27:4), and the "one thing" Paul pursued (Philippians 1:27). It inspired me to pursue my own "one thing." Today I'm praying that these words inspire you as well. I hope they leave you with the curiosity to read about David's "one thing" and Paul's "one thing." I pray that they inspire you to go back to square one and pursue your own "one thing."
The more I seek him, the more I find him.
The more I find him, the more I know him.
The more I know him, the more I love him.
The more I love him, the more I obey him.
The more I obey him, the more I need him.
The more I need him, the more I seek him