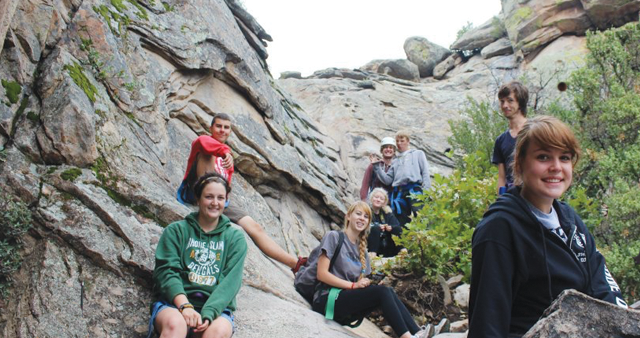 Parenting Youth: Technological Overload
My senior year in high school, I was sitting in Spanish class. It must've been around 1996. A kid a few rows from me wore a t-shirt that said "Windows 92." I just thought his dad owned a window-installing company. After all, I had never used or seen the Internet.
My first semester of college, one of our assignments was to create a personal, university student email address. After struggling with it for days, I decided that this was my first and last attempt with the "Interwebs." I didn't get it and I didn't want to.

Fast-forward to 2017. Technology has become a dominant driving force in our culture. And with every good thing that is created to improve our way of life and make us more efficient while connecting us socially, there's a great need to unplug and be still. From what I gather from scripture, I see Jesus being found in the still and quiet places, though he walks with us through our chaos.

I think one of the great reasons Lone Tree has been so good for our students is because we get to unplug from technology and routines. It's a chance for us to focus and re-focus. And when I watch our youth participate in the activities the camp offers - the kind of things we used to do when we were young - I don't think they really miss their cellphones. And for a short while, they forget about Snapchat, Facebook, Twitter, Instagram.

One of the greatest faith-building things that I do is hike in the Rockies. This is something our family has done since before I was born while vacationing in Colorado. At times, I'll see a small house in a meadow between peaks and wonder what that homeowner does to pay the bills so he can live where he does. It's tempting. For me, I can stare from one mountain to the next and instantly, my mind goes to our Creator. I've just never really been much of a technology guy. I have Facebook and that 's about it. I'm sure part of the reason is that I did without for all of my childhood. I didn't grow up with it.

My encouragement to parents, and myself, is to help our kids unplug. It's ok to be bored sometimes as it teaches us to be creative. But most importantly, if we can quiet our surroundings, I believe it will be easier to hear God speaking to our hearts. Jesus often retreated from the crowds to places where he could fellowship, be still, and hear from the Father.