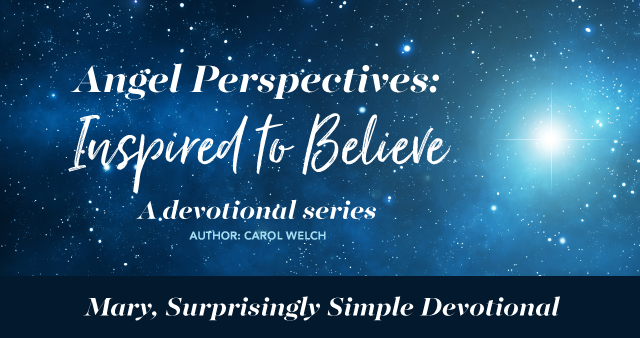 Mary, Surprisingly Simple Devotional
QUESTION: Have you ever had difficult news to share with someone? What did you do to help the person understand?
SCRIPTURE: Luke 1:28 (HCSB)
A virgin birth, what could be more difficult to explain? "Joseph, I know we had plans, but I'm pregnant." Somehow that conversation just won't have an easy answer. Yet this was God's plan for Mary and Joseph; and He began the conversation with, "Rejoice favored woman!" Is this God's sense of humor at work? If it is, somehow Mary's not laughing.
Or perhaps we're looking at this announcement from the wrong direction. Two thousand years of history does tend to warp our perspective. Where is God at this moment in history? He's sitting in the Holy of Holies behind an enormous veil, waiting for the time to be fulfilled.His Levite Priests, His Sadducees and Pharisees have argued themselves into a complex corner, a corner focused on the human ability to live a holy and righteous life, a corner with an increasingly dim view of God's grace. And what is God doing about it? He's biding his time, waiting for the just right moment; and he's doing it silently.
God, who longs to walk with his children in the cool of the day is patiently and quietly waiting. He hasn't spoken to His children for 400 years (between the last verse in Malachi and the first verse in Matthew). But God has a plan. From the foundation of the world, His plan is in place, and His plan is about to bust out. God is about to move the Holy of Holies. He's about to rip the veil from top to bottom. He's about to leave the holiest building on the face of the planet in favor of the human heart of man.
God's 400 years of silence is about to be broken by the cry of a newborn babe. Finally, God is ready to move; and He begins with, "Rejoice favored woman!" Your time of waiting is over! Weep no more, my child; the silence is done! The time is fulfilled!Finally, I will walk with you, and live with you. I will be your God and you will be my people (Lev. 26:12, Jer. 31:33, Jer. 32:38, Ezk. 37:26)!
"Rejoice favored woman!" I know your plan is for a wedding, but My plan is so much more - more than you could ever think or imagine. I have plans for your welfare, to give you a future and a hope (Jer. 29:11-14).
Just imagine the majesty of Almighty God inside a newborn babe. God's plan is so surprisingly simple. He chooses to come to us. Jesus Christ the Righteous One leaves the splendor of Heaven to walk in the dust with us. How can you NOT love a God who would make such a choice, a God who loves you enough to step into your difficult circumstances and walk with you. Just imagine!
Jesus came for a reason. He came to visibly demonstrate the profound love of the Father. He came to reconcile every hindrance between a Holy God and a broken people. He came to rip the veil and take up residence in the human heart. He came so we could look into the face of God and know that our Redeemer lives.
Mary had a difficult choice to make that day, and so do we all. God chooses at great expense to live with us and walk with us. It is a choice of labor and tears, a choice of sweat and blood; but it is a choice filled with redemption and love. And it is a choice that requires a response.
Mary chose to say, "yes." More than that, she chose simple obedience. She surrendered the complexities of her questions and simply accepted a profound gift from a Holy God. "I am the Lord's servant," said Mary. "May it be done to me according to your word." Luke 1:38
We try to make it difficult,but God continues to surprise us with the simplicity of His plan; and Mary has the courage to say, "Yes." How will you respond? When God asks for your heart and offers you the profound gift of salvation, what will you say? When God reveals His plan for you, how will you reply? When God asks for your service, will you stop to count the cost? Will you doubt the complexities of the proposal, or will you simply trust Him?
ACTIVITY:
Take the family on a winter nature walk. Bundle up for the cold, take along a basket, and head to your favorite park or walking trail. Consider all of the surprising things that God has created for you to enjoy in winter. Consider the winter treasury of seeds, acorns and nuts. Consider the dormant cocoons and chrysalises that protect overwintering insects. Consider the faded life of a beautiful leaf. Consider a tree limb just waiting to sprout in the warmth of Spring. Consider the living roots of the dormant grass. Consider what God is providing for his animals to eat in the absence of green foliage. Once you start looking, there is no end to the surprising beauty and the bounty of God's creation.
Collect whatever you find to talk about with your children. When you get home, consider how you might display your collection to enjoy. Celebrate the glory of God's surprising creativity with prayers of thanksgiving every time you stop to consider your collection.