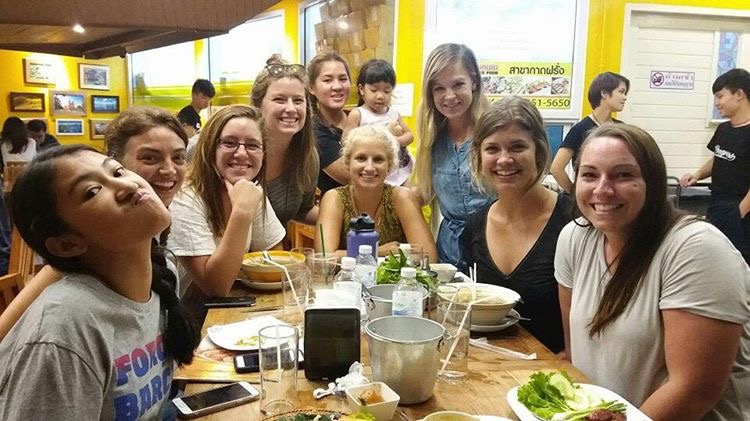 What three better things to combine... food, fun, and friends.
Community is sooo important to me. Over the course of my 9 months on the Race, I've lived community 24/7. I've shared a bathroom with 6 other girls. I've had no personal space, whatsoever. I've had deep conversations in some capacity, pretty much everyday... and some of those conversations have happened around the table.
Conversations with laughter and with tears, conversations of God's goodness and one of questioning if this Christian life is really what it is cracked up to be. Some of the tables have been wooden, some have been metal, and some have even been sitting on the floor. But what I have learned is that it doesn't matter what the table looks like, or even where it is located... what matters is the faces around the table.
God designed community to look like this... a life around the table. Because around the table, life is able to happen. Stories have the opportunities to be shared. And you start to love deeply those surrounding you. If we look in the Bible, God connects His people through feasts and parties and wide tables set with bread and wine and honey. Even one of the last things Jesus did before his death was sit down for one last meal with his disciples, his people. Jesus saw the value of life around the table. And I believe it's because around the table deep conversations happened.
I've had more sanctifying chats around the table than I've had inside the doors of a church. Now I am not saying that is always the case, because I have been transformed through the grace shown in the church. What I am saying is, the table is a place where people can feel seen. You have the opportunity to see into the depths of people's souls. We bring the mess of our lives to the table, learning what it looks like to share our burdens. We tell stories and share joys, celebrating even the smallest things.
The tables in my life have become some of my most sacred spaces. The tables of unassuming coffee shops and kitchen counters and beautiful dining rooms... they all have become spaces for encountering each other and more importantly encountering Jesus.
And yes, life around the table is messy. It always is when you get food and sinners involved... but even in the mess, there is so much beauty. I've seen it with my own eyes, on and off the Race.
Around the table, my cup runneth over.