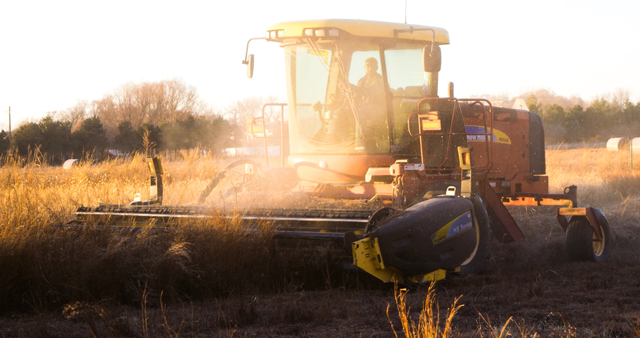 Farming​ ​and​ ​agriculture​ ​are​ ​abundantly​ ​used​ ​themes​ ​throughout​ ​scripture.​ ​​ ​Christ​ ​used examples​ ​of​ ​plants​ ​growing​ ​and​ ​the​ ​harvest​ ​multiple​ ​times​ ​in​ ​parables;​ ​​ ​Paul​ ​used​ ​them​ ​as​ ​an example​ ​in​ ​1​ ​Corinthians​ ​3:6.​ ​​ ​The​ ​parallels​ ​with​ ​agriculture​ ​can​ ​be​ ​seen​ ​in​ ​our​ ​own​ ​lives,​ ​in​ ​our own​ ​walk​ ​with​ ​Christ,​ ​and​ ​in​ ​how​ ​we​ ​disciple​ ​others.​ ​​ ​Just​ ​as​ ​a​ ​seed​ ​is​ ​planted,​ ​sprouted,​ ​grows and​ ​then​ ​is​ ​harvested,​ ​we​ ​follow​ ​a​ ​similar​ ​pattern​ ​as​ ​Christians.
So​ ​what​ ​is​ ​our​ ​role​ ​on​ ​the​ ​Father's​ ​farm?​ ​​ ​Well,​ ​we​ ​fulfill​ ​multiple​ ​roles​ ​in​ ​this​ ​Holy​ ​Agriculture​ ​at different​ ​times​ ​in​ ​our​ ​walk.​ ​​ ​Some​ ​may​ ​plant​ ​seeds​ ​for​ ​a​ ​season​ ​and​ ​some​ ​may​ ​cultivate​ ​for​ ​a season.​ ​​ ​Paul​ ​made​ ​a​ ​reference​ ​to​ ​this​ ​in​ ​1​ ​Corinthians​ ​3:6-7: ​​
I​ ​planted,​ ​Apollos​ ​watered,​ ​but​ ​God​ ​was​ ​causing​ ​the​ ​growth.​ ​​ So​ ​then​ ​neither the​ ​one​ ​who​ ​plants​ ​nor​ ​the​ ​one​ ​who​ ​waters​ ​is​ ​anything,​ ​but​ ​God​ ​who​ ​causes​ ​the growth.
Paul​ ​makes​ ​it​ ​clear​ ​that​ ​the​ ​credit​ ​for​ ​the​ ​spiritual​ ​growth​ ​is​ ​God's.​ ​​ ​Some​ ​of​ ​us​ ​may​ ​plant​ ​the seeds​ ​of​ ​Truth​ ​in​ ​those​ ​around​ ​us,​ ​and​ ​others​ ​may​ ​continue​ ​their​ ​discipleship,​ ​but​ ​it​ ​is​ ​all​ ​the working​ ​of​ ​God​ ​that​ ​will​ ​lead​ ​them​ ​Home.​ ​​ ​Regardless​ ​of​ ​what​ ​you​ ​view​ ​your​ ​role​ ​in​ ​the​ ​church, or​ ​your​ ​community,​ ​to​ ​be,​ ​you​ ​have​ ​a​ ​role​ ​in​ ​cultivating​ ​your​ ​Christian​ ​brethren.
Imagine​ ​a​ ​farmer​ ​scooping​ ​up​ ​a​ ​handful​ ​of​ ​dirt​ ​in​ ​the​ ​field.​ ​​ ​Imagine​ ​the​ ​worms​ ​in​ ​the​ ​dirt wriggling​ ​around​ ​and​ ​trying​ ​to​ ​return​ ​to​ ​the​ ​field.​ ​​ ​They​ ​seem​ ​so​ ​insignificant,​ ​yet​ ​they​ ​are​ ​vital. Without​ ​them,​ ​the​ ​field​ ​would​ ​not​ ​be​ ​properly​ ​aerated​ ​and​ ​would​ ​not​ ​yield​ ​the​ ​crops​ ​as effectively.​ ​​ ​Let's​ ​look​ ​at​ ​the​ ​story​ ​of​ ​Gideon,​ ​when​ ​considering​ ​the​ ​need​ ​for​ ​prominence​ ​in doing​ ​God's​ ​work.​ ​​ ​He​ ​came​ ​from​ ​a​ ​lowly​ ​Jewish​ ​family​ ​with​ ​no​ ​ties​ ​to​ ​nobility​ ​or​ ​greatness. When​ ​the​ ​angel​ ​of​ ​the​ ​Lord​ ​found​ ​him​ ​to​ ​call​ ​him​ ​to​ ​action​ ​he​ ​balked​ ​at​ ​the​ ​thought​ ​(Judges 6:15):
He​ ​said​ ​to​ ​Him,​ ​"O​ ​Lord,​ ​​ how​ ​shall​ ​I​ ​deliver​ ​Israel?​ ​Behold,​ ​my​ ​family​ ​is​ ​the least​ ​in​ ​Manasseh,​ ​and​ ​I​ ​am​ ​the​ ​youngest​ ​in​ ​my​ ​father's​ ​house."
Despite​ ​Gideon's​ ​protestations​ ​about​ ​his​ ​lowly​ ​position,​ ​God​ ​used​ ​him​ ​to​ ​bring​ ​salvation​ ​to​ ​his Chosen​ ​People.​ ​​ ​Others,​ ​like​ ​Paul,​ ​were​ ​humbled​ ​by​ ​God​ ​so​ ​that​ ​they​ ​could​ ​be​ ​effective​ ​in building​ ​the​ ​Kingdom​ ​(Acts​ ​9).
Then,​ ​if​ ​we​ ​all​ ​have​ ​a​ ​role​ ​to​ ​play,​ ​how​ ​do​ ​we​ ​fulfill​ ​those​ ​roles?​ ​​ ​Well,​ ​there​ ​are​ ​three​ ​active phases​ ​that​ ​we​ ​participate​ ​in​ ​when​ ​discipling​ ​our​ ​brethren:​ ​preparing​ ​the​ ​soil,​ ​planting​ ​the​ ​seed, and​ ​cultivating​ ​the​ ​crop.
In​ ​preparing​ ​the​ ​soil,​ ​we​ ​are​ ​making​ ​the​ ​person​ ​ready​ ​to​ ​hear​ ​the​ ​Gospel.​ ​​ ​This​ ​is​ ​done​ ​through engaging​ ​them​ ​in​ ​conversation,​ ​living​ ​Christ​ ​through​ ​our​ ​actions,​ ​and​ ​making​ ​it​ ​clear​ ​that​ ​there is​ ​a​ ​difference​ ​in​ ​our​ ​lives.​ ​​ ​We​ ​have​ ​to​ ​be​ ​the​ ​instrument​ ​for​ ​God​ ​to​ ​soften​ ​their​ ​hearts​ ​and make​ ​them​ ​realize​ ​the​ ​yearning​ ​for​ ​Him​ ​with​ ​which​ ​we​ ​are​ ​all​ ​born.​ ​​ ​Talking​ ​about​ ​the​ ​Gospel​ ​to those​ ​around​ ​us​ ​may​ ​work,​ ​but​ ​even​ ​more​ ​effective​ ​is​ ​the​ ​giving​ ​and​ ​showing​ ​of​ ​good​ ​Christ-like love.​ ​​ ​Consider​ ​John​ ​13:34-35:
A​ ​new​ ​commandment​ ​I​ ​give​ ​to​ ​you,​ ​that​ ​you​ ​love​ ​one​ ​another,​ ​even​ ​as​ ​I​ ​have loved​ ​you,​ ​that​ ​you​ ​also​ ​love​ ​one​ ​another.​ ​​ By​ ​this​ ​all​ ​men​ ​will​ ​know​ ​that​ ​you​ ​are My​ ​disciples,​ ​if​ ​you​ ​have​ ​love​ ​for​ ​one​ ​another."
Once​ ​God​ ​has​ ​opened​ ​the​ ​heart​ ​of​ ​an​ ​individual,​ ​it​ ​is​ ​ready​ ​to​ ​be​ ​planted​ ​with​ ​the​ ​seed​ ​of​ ​the Gospel.​ ​​ ​Here,​ ​presenting​ ​the​ ​overwhelming​ ​Truth​ ​of​ ​the​ ​Gospel​ ​will​ ​help​ ​them​ ​know​ ​their​ ​need for​ ​Salvation.​ ​​ ​When​ ​the​ ​individual​ ​has​ ​accepted​ ​Christ​ ​as​ ​their​ ​Lord​ ​and​ ​Savior,​ ​the​ ​seed​ ​is planted.​ ​​ ​Some​ ​are​ ​called​ ​to​ ​evangelism​ ​in​ ​this​ ​form,​ ​but​ ​we​ ​are​ ​all​ ​called​ ​to​ ​help​ ​prepare​ ​the soil​ ​of​ ​the​ ​heart.​ ​​ ​We​ ​are​ ​all​ ​called​ ​to​ ​help​ ​cultivate​ ​and​ ​be​ ​cultivated​ ​as​ ​we​ ​grow​ ​in​ ​Christ.
Similar​ ​to​ ​actual​ ​farming​ ​activities,​ ​the​ ​act​ ​of​ ​preparing​ ​the​ ​soil​ ​is​ ​a​ ​long​ ​process,​ ​as​ ​is​ ​the​ ​act​ ​of cultivating​ ​and​ ​supporting​ ​the​ ​growth​ ​of​ ​the​ ​crop.​ ​​ ​Comparatively,​ ​planting​ ​the​ ​seed​ ​is​ ​a​ ​quick activity,​ ​but​ ​in​ ​the​ ​church​ ​it​ ​seems​ ​to​ ​get​ ​the​ ​most​ ​attention.​ ​​ ​A​ ​seed​ ​planted​ ​on​ ​poorly​ ​tilled ground​ ​will​ ​not​ ​yield​ ​much​ ​for​ ​a​ ​spiritual​ ​crop.​ ​​ ​So​ ​after​ ​the​ ​seed​ ​has​ ​been​ ​planted​ ​and​ ​the individual​ ​has​ ​accepted​ ​Salvation,​ ​the​ ​long​ ​important​ ​work​ ​begins.
Discipleship​ ​is​ ​the​ ​cultivation​ ​activity.​ ​​ ​Discipleship​ ​is​ ​not​ ​a​ ​singular​ ​activity,​ ​nor​ ​is​ ​it​ ​one​ ​way. Elders​ ​can​ ​be​ ​discipled​ ​in​ ​some​ ​ways​ ​by​ ​the​ ​young,​ ​as​ ​the​ ​young​ ​are​ ​discipled​ ​by​ ​the​ ​elders. God​ ​has​ ​woven​ ​the​ ​theme​ ​throughout​ ​all​ ​of​ ​history​ ​that​ ​no​ ​one's​ ​experience,​ ​birth,​ ​or​ ​station​ ​in society​ ​makes​ ​them​ ​above​ ​another.​ ​​ ​We​ ​must​ ​seek​ ​to​ ​be​ ​discipled​ ​just​ ​as​ ​we​ ​disciple​ ​others. When​ ​we​ ​feel​ ​there​ ​is​ ​no​ ​more​ ​for​ ​us​ ​to​ ​learn​ ​in​ ​our​ ​walk​ ​with​ ​Christ,​ ​then​ ​we​ ​have​ ​become​ ​as the​ ​rich​ ​man​ ​(Mark​ ​10:​ ​23-25):
And​ ​Jesus,​ ​looking​ ​around,​ ​said​ ​to​ ​His​ ​disciples,​ ​"How​ ​hard​ ​it​ ​will​ ​be​ ​for​ ​those who​ ​are​ ​wealthy​ ​to​ ​enter​ ​the​ ​kingdom​ ​of​ ​God!"​ ​​ The​ ​disciples​ ​were​ ​amazed​ ​at His​ ​words.​ ​But​ ​Jesus​ ​answered​ ​again​ ​and​ ​said​ ​to​ ​them,​ ​"Children,​ ​how​ ​hard​ ​it​ ​is to​ ​enter​ ​the​ ​kingdom​ ​of​ ​God!​ ​​ It​ ​is​ ​easier​ ​for​ ​a​ ​camel​ ​to​ ​go​ ​through​ ​the​ ​eye​ ​of​ ​a needle​ ​than​ ​for​ ​a​ ​rich​ ​man​ ​to​ ​enter​ ​the​ ​kingdom​ ​of​ ​God."
Here​ ​the​ ​wealthy​ ​struggled​ ​to​ ​enter​ ​into​ ​the​ ​Kingdom​ ​of​ ​God​ ​because​ ​they​ ​did​ ​not​ ​think​ ​they needed​ ​anything​ ​from​ ​God.​ ​​ ​We​ ​can​ ​do​ ​nothing​ ​outside​ ​of​ ​the​ ​Grace​ ​of​ ​God.​ ​​ ​It​ ​is​ ​only​ ​through Him​ ​and​ ​His​ ​power​ ​that​ ​we​ ​are​ ​saved.​ ​​ ​We​ ​see​ ​in​ ​Proverbs​ ​1:5-7​ ​that​ ​we​ ​must​ ​seek​ ​teaching and​ ​our​ ​own​ ​discipleship​ ​to​ ​gain​ ​His​ ​Wisdom:
A​ ​wise​ ​man​ ​will​ ​hear​ ​and​ ​increase​ ​in​ ​learning,
And​ ​a​ ​man​ ​of​ ​understanding​ ​will​ ​acquire​ ​wise​ ​counsel, To​ ​understand​ ​a​ ​proverb​ ​and​ ​a​ ​figure,
The​ ​words​ ​of​ ​the​ ​wise​ ​and​ ​their​ ​riddles.
The​ ​fear​ ​of​ ​the​ ​​LORD​​ ​is​ ​the​ ​beginning​ ​of​ ​knowledge; Fools​ ​despise​ ​wisdom​ ​and​ ​instruction.
It​ ​is​ ​only​ ​through​ ​Him​ ​that​ ​we​ ​grow.​ ​​ ​We​ ​must​ ​seek​ ​Him​ ​and​ ​His​ ​Wisdom​ ​to​ ​be​ ​discipled​ ​and​ ​to disciple​ ​those​ ​around​ ​us.​ ​​ ​We​ ​are​ ​all​ ​workers​ ​on​ ​the​ ​Father's​ ​farm.​ ​​ ​We​ ​all​ ​work​ ​in​ ​His​ ​fields. Let​ ​us​ ​all​ ​work​ ​together​ ​in​ ​Love​ ​and​ ​Harmony​ ​so​ ​that​ ​we​ ​may​ ​participate​ ​in​ ​the​ ​Lord's​ ​Harvest!.