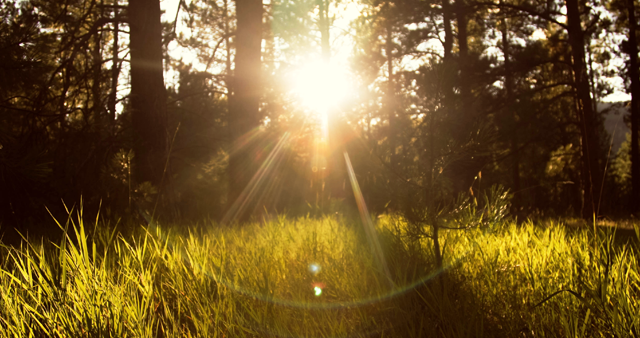 "The Spirit Himself testifies together with our spirit that we are God's children...heirs of God and co-heirs with Christ" (Romans 8:16-17).
There is a difference between knowing about God in your head, and knowing God in your heart. I knew a pastor once who said that your head knowledge must make a 16-inch trip from your brain to your heart before genuine salvation can occur. Your mind may comprehend the message of salvation. You may realize the consequences of your sin and understand your need for a Savior (Romans 3:10-12; 23). But until your spirit recognizes that mustard seed of faith that Jesus is offering, until you reach out in response to that offering and latch onto God's grace, the experience of salvation cannot occur.
The book of Matthew tells us of a man who found Jesus in the synagogue. This man had a paralyzed hand. In the midst of a discussion about whether it was lawful to heal on the Sabbath, Jesus told this man, "Stretch out your hand" (Matthew 12:13). Imagine living with a paralyzed hand. How frustrating it must have been for this man to rely on others for the things that were necessary in life. His hand would not move. No matter how hard he tried or how much he focused his mind, he couldn't move it even a fraction of an inch. But finally, there he was; standing before Jesus! He must have been jumping out of his skin with excitement. Finally, he was going to be healed. Finally...wait...what did he say? Stretch out my hand? My hand is paralyzed! I can't stretch it out!
Of course, this isn't the conversation that occurred in Scripture. You should read it yourself—it's an amazing story; and it's been useful in my exaggeration to prove a point. It's a war zone in there—that place between your heart and your head. It's a constant wrestling match between your mind and your emotions, a tug of war between your spirit and your own stubborn will. But if you want to seal the deal, you have to let your knowledge of Jesus make that 16-inch trip from your brain to your heart so that you can stretch out your hand to Jesus and latch onto his grace. "For by grace you are saved through faith, and this is not from yourselves; it is God's gift" (Ephesians 2:8).
Yes, salvation is a trip; but it isn't a one-way adventure. It's a two-way journey. Once you make that heart decision, your heart knowledge must make a 16-inch trip back to your brain where a choice must be made. "With the heart one believes, resulting in righteousness, and with the mouth one confesses, resulting in salvation" (Romans 10:10). We confess our sins, and we confess salvation before God and men. As Christians, we are "not ashamed of the gospel, because it is God's power for salvation to everyone who believes" (Romans 1:16).
As a child of God, that two-way trip knowledge takes from the mind to the heart and back again will become a familiar experience. Paul describes this trip in Romans 8:14-17, "All those led by God's Spirit are God's sons. For you did not receive a spirit of slavery to fall back into fear, but you received the Spirit of adoption, by whom we cry out, 'Abba, Father!' The Spirit Himself testifies together with our spirit that we are God's children, and if children, also heirs—heirs of God and co-heirs with Christ..."
As a child of God, the Holy Spirit lives within you. The Spirit uses that two-way trip to confirm his presence in your life. He uses it to teach you about his unfailing love and his unlimited ability to forgive. He uses it to give you peace in the midst of trouble, certainty as you go through trials, serenity as you walk through the valleys of life, and truth when Satan lies to you. Once you're God's child, his Holy Spirit will never leave you or forsake you; not even when your faith fails or you fall into the depths of sin (Hebrews 13:5). He will teach you, again and again the truths that are needed in your life.
It is this two-way trip that causes your mustard seed of faith to flourish throughout your lifetime. It is this two-way trip that allows you to see things from God's perspective. His perspective will never fail to bring you back to the point of his will for your life, and open the doorway for renewal and restoration in your heart and mind. This two-way trip of knowledge, imparted to you from the one who created you, will ultimately supply you with the wholeness you desire as a Christian.
The truth is that none of us feel like being obedient all the time. This is why we must not allow obedience to be a heart choice. In the same way, we will all come to a time when we doubt the realness of our experience with God. This is why faith is not a matter of the mind alone. When the Spirit says to you, You are my beloved child, it is your heart that erupts in joyful recognition, allowing your mind to respond to his call. This is the working of Christ in you. It is your assurance and your everlasting hope of the glory to come!
Assignment: Have you been saved by grace, or do you have persistent doubts? Does the Holy Spirit reside in you, or do you find yourself surprisingly alone? If you're saved and you know it, then share your salvation experience with someone you love. If you have doubts, don't let them linger. Talk to a trusted Christian friend, mentor, or pastor. Resolve that issue today.