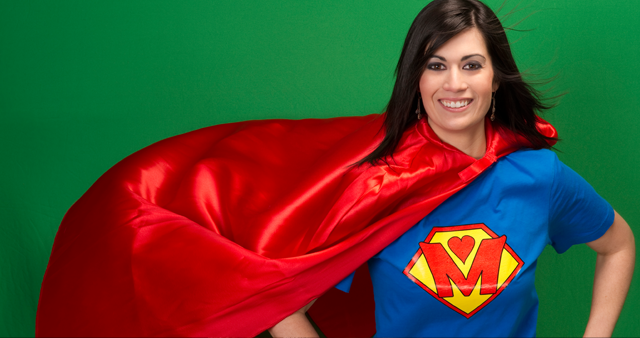 I remember the day well… I was driving through the Arbuckle Mountains in Oklahoma in my GMC van, talking to God while my 5 little kids were sleeping. I was in tears, wrestling with my disappointment that I was not a "good mom."
You see, as a child I had this amazing example of a "good mom." My mother woke early every morning to cook us breakfast. It was the works – eggs, bacon, homemade biscuits. She read us books while we waited for the bus to arrive. She did our laundry, even complete with ironing. She tucked us into bed with special songs every night.
My motherhood did not look anything like that. Rarely did I make a real breakfast on school days. (And my husband actually prefers canned biscuits over homemade, Yuk!) Our mornings, as we tried to get out the door, were nothing close to serene. And I had my kids doing their own laundry at the age of nine. Compared to my mother, I was failing miserably at being a "good mom."
But because God is an amazing Father, I make a habit of bringing all my cares to Him. And as I poured out my failures to Him, God urged me to ask what His definition of a "good mom" is. So I did. And the amazing Creator of the Universe, shared with me His heart for my kids and my husband. He invited me to lay down my preconceived ideas of what a good mom looks like and pick up His heart for my family.
Motherhood changed for me that day. Oh, I still compare myself with other moms and come up way short. But then I remember the charge God has given me to be a mom to Brent, Mel, Beth, Dave and Ally. And He has perfectly equipped me to fulfill it.
3 things to change your definition of a "good mom."
Ask God to give you His definition for you. I guarantee you it will bring freedom to your soul. Intentionally spend time seeking how God wants you to parent your children in this current season. (God gave me great ideas for schedules, chore charts, discipline, etc. when I spent the time to ask.)
Walk and talk with God. Start your day with Him so He can speak to you. It doesn't have to be difficult; but fixing my eyes on Jesus in the morning is important to how I walk through the day.
Lay down cultural pressures. Comparing yourself to other moms yields nothing good. Run the race that is set before you (Hebrews 12:1-3.) Erase what the world tells you about being a good mom and let God redefine your view of motherhood.
Moms, I am cheering for you! Run the race with your eyes fixed on Jesus.