If you are ill, or have underlying medical conditions, services will be streamed on our website at 9:30AM & 11:00AM so that you can participate with us in worship from home.
On-Campus Worship Service Information
Here are a few details about Sundays:
Worship Service times will be 9:30AM and 11:00AM (more seats are being added to help with social distancing).

At this time, we are still not hosting services in the Feed.

Most Adult Bible Studies will begin meeting

Children's Ministry and Student Ministry will be happening during the 9:30AM hour. Effective Sunday, October 11th, you no longer need to register your Children for programming. No registration is required for Student Programming.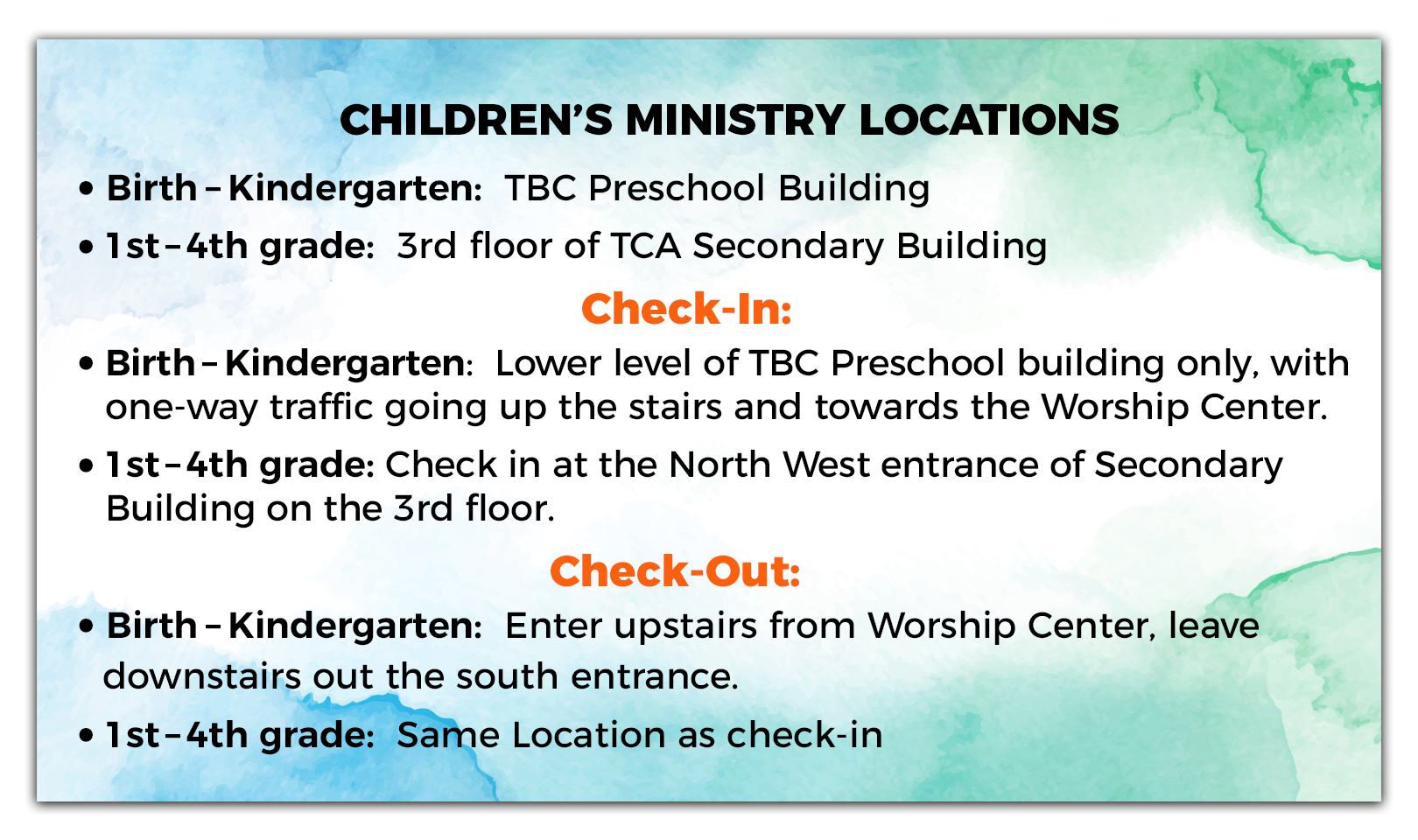 It is the desire of Trinity Bible Church (TBC) to meet the spiritual needs of everyone who comes to worship, fellowship, and pursue spiritual growth with us. During this unique season, we have instituted precautions based on recommendations by the Centers for Disease Control and Prevention (CDC) to minimize the risk of spreading communicable diseases within our church body. You can find a summary of our sanitation and safety practices in the link below.
Summary – Sanitization and Safety Practices – Fall 2020
These are challenging and uncertain times. But God's word says "we have not been given a spirit of fear but of power and of love and of a sound mind". We have a great opportunity to show our families, our neighbors, and the world, the power of God's peace and compassion. To help with that, TBC will use this page to provide links, videos, and other resources for all ages, and with regular updates. Please take the time to scroll through this page for ways to care for yourself and your family, draw close to the Lord, serve our community, and stay connected.

On Sunday Mornings at 9:30AM & 11:00AM, worship with us in the Worship Center or by using this link.
Use the link below to give to TBC.
Wednesday Word from our Pastors' Video Blog
Let us partner with you in prayer as you navigate these uncertain times.

Information about how to Connect

TBC Connection Groups FAQs
How can we meet? With many of the counties declaring states of emergency or shelter in place, it makes it not in the best interest of our groups to physically join together. I would want to encourage you to hold a Zoom meeting with your group. Zoom is a super easy and free way to hold a video meeting with everyone in your group. You can go to sign up for an account online at https://zoom.us. You can sign up for a free account, and hold a meeting with up to 40 people for 40 minutes. All for FREE!
What can we study? This is a great time to remind all our connection groups that all attenders, guest and friends can sign up for FREE access to Right Now Media. It has great studies for adults to do alone or with a group, and it has shows for the kids including Veggie Tales, Boz, Adventures in Odyssey and more. Anyone can sign up for free access by registering through the link on trinitybible.com. If you have family members that need this resource as well, please pass this link on to them. https://trinitybible.com/resources/right-now-media/ Also, another great app to have is the YouVersion Bible app. This is the app we use on Sundays and it is free to use.

Learn about the Parker County Kindness Challenge
Kids Ministry
Parent Resources for Trinity Kids Bible Studies and Worship
Student Ministry
Facebook Page – Trinity Bible Church Student Ministry
Men's Ministry
Men's Bible Study Discussion Groups
Combined Men's & Women's Online Bible Study Discussion Groups
Questions, contact Thomas Vanover,
Women's Ministry
Combined Men's & Women's Online Bible Study Discussion Group
Questions, contact Brooke Sims,
Primetimers Ministry
Marriage
Parenting
What if there is a need?
If there is a need in your group I encourage you as a group to step up in this time of need to support those around you. If there is a need that you know of, you can email us at .
Helping your neighborhood in practical ways.