Parent's Day Out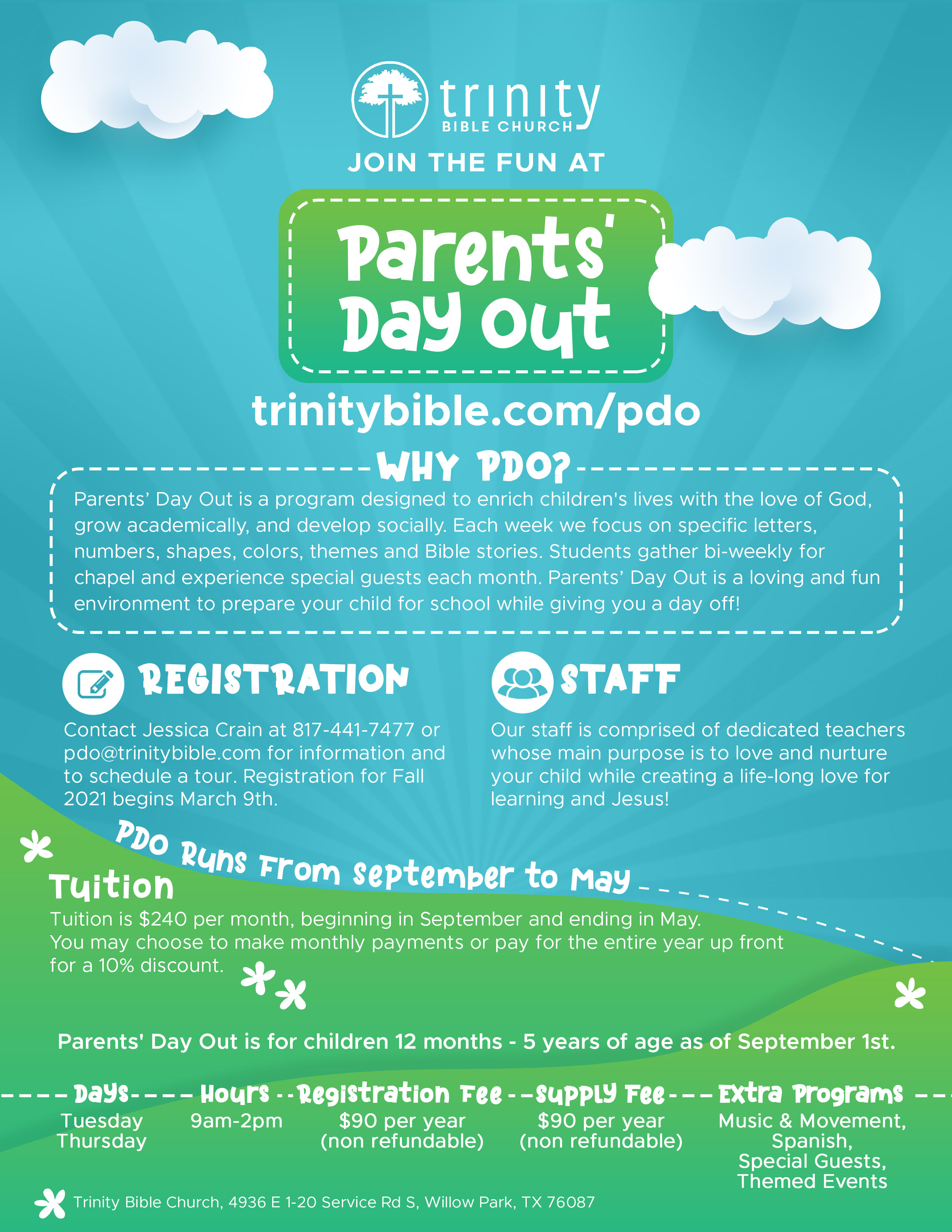 Enrollment for 2021/2022
Registration paperwork and registration fees are due at the time of enrollment to guarantee a spot.
For current students and siblings, enrollment opens on February 4, 2021.
For church members (who are not current students), enrollment opens on February 25, 2021.
Public Enrollment begins on March 9, 2021 at 9:00 AM.
Click here to download Enrollment Form
Our mission at Trinity Kids Parents' Day Out is to serve God and to share the gifts He has given us by providing a loving, caring, and nurturing environment for your child. It is our prayer that your child will grow in His love and grace.
At Parents' Day Out (PDO) your child will be in a safe Christian environment. The curriculum will promote exploration, creativity, discovery, and developmentally appropriate activities for children 6 weeks to 5 years old as of September 1st of enrollment year.


PHILOSOPHY AND GOALS:
We believe that partnering with families is vital to providing effective Christian education for children. We at Trinity desire to see parents involved and enjoying the program as much as the children. The goal of the Trinity Kids Parents' Day Out program is to provide a happy, positive environment where each student may learn and thrive. The program provides each child with the tools required to expand and develop their hand-eye coordination, their fine and gross motor skills, their thought processes, and their academic skills. We recognize that learning occurs in both formal and informal ways. Our well-balanced program includes both teacher-directed and self-selected activities, both quiet as well as active experiences, all with an emphasis on Christian values.
Our staff is comprised of dedicated teachers whose main purpose is to love and nurture your child while wrapping him or her in the joy of Jesus!!
All children in the 3-year-old classes and older MUST BE fully potty trained.

For more information please contact Jessica Crain at
"Let the little children come to Me, and do not hinder them, for the Kingdom of God belongs to such as these." Luke 18:16