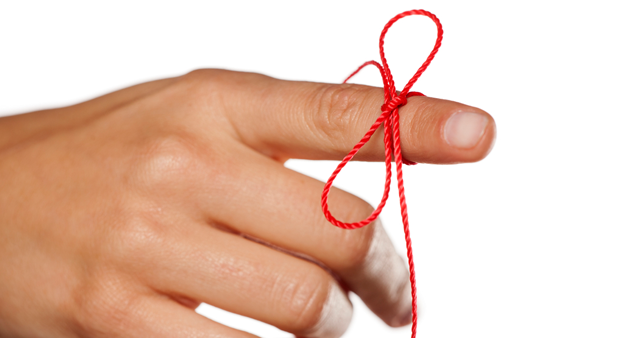 I am continually astonished at the capabilities of the human mind. It is incredible how much information can be remembered when we set our minds to it. We have phones that can hold hundreds of gigabytes of memory and computers that can hold terabytes, but this pales in comparison to the human mind. My earliest memory is of a time when I could not even walk. I do not remember my thoughts or emotions but I can remember what I saw as I crawled through the living room of a family friend's house.We are especially able to remember special and important moments in our lives, whether it be the birth of a child, a first kiss, or a time when someone really encouraged us. Similarly, students all over the nation are currently pushing the limits of their memory as they prep for final exams.

The act of remembering is important for relationships as well. Whether it's a husband remembering an anniversary or a family remembering to pick up the kids from practice, there are often high stakes when it comes to remembering.

A few years ago I began to notice from Scripture that God too thinks memory is important. Throughout the pages of Scripture, the people of God are told to remember and not forget. What I would like to do is to show you a few of these examples and draw out some principles from them for you.


1. We are called to remember what God has done in our lives.
One of the first places where the people of God are told to remember is in Exodus 13:3-10 which says,
3 Then Moses said to the people, "Remember this day in which you came out from Egypt, out of the house of slavery, for by a strong hand the Lord brought you out from this place. No leavened bread shall be eaten. 4 Today, in the month of Abib, you are going out. 5 And when the Lord brings you into the land of the Canaanites, the Hittites, the Amorites, the Hivites, and the Jebusites, which he swore to your fathers to give you, a land flowing with milk and honey, you shall keep this service in this month. 6 Seven days you shall eat unleavened bread, and on the seventh day there shall be a feast to the Lord. 7 Unleavened bread shall be eaten for seven days; no leavened bread shall be seen with you, and no leaven shall be seen with you in all your territory. 8 You shall tell your son on that day, 'It is because of what the Lord did for me when I came out of Egypt.' 9 And it shall be to you as a sign on your hand and as a memorial between your eyes, that the law of the Lord may be in your mouth. For with a strong hand the Lord has brought you out of Egypt.10 You shall therefore keep this statute at its appointed time from year to year. (Emphasis mine)

Moses here, sets up the Feast of Unleavened Bread for the purpose of remembering how God brought the Hebrews out of the land of Egypt. This act of God would be so important for them to remember that there would be a seven day feast every year to commemorate it. Notice too that this was meant to be family oriented as well. One of the purposes Moses mentions is that when a Hebrew child would ask about why his family had this feast every year, it would give the parents an opportunity to tell of God's faithfulness in bringing them out of Egypt.

Remembering what God has done for us in the past gives us strength in the present because our God is unchanging. If he was good in the past, he will be good now. If he provided in the past, he will provide now. If he was faithful in the past, he will continue to be faithful. One of my favorite quotes is from Charles Spurgeon, the "prince of preachers", who said, "The God who has been faithful until now can be trusted to the end." I think often God allows things into our lives to teach us lessons that we will need in the future. We should make it our aim to remember these things to give us strength in the present and so that we can share with others the greatness of our God. When life is hard, as it often is, we can hold on to what God has taught us in the past to remind ourselves that God is faithful to complete his work in us.

2. We are called to remember God when life is easy.
Being in a time of trial and difficulty has it's challenges, but so does being in a time of prosperity and ease. There is arguably more danger for a Christian in times of ease than in times of challenge. When all is well and life is easy and comfortable one can quickly forget the depth of our need for God. Too easily we forget John 15:5 which says, "I am the vine; you are the branches. Whoever abides in me and I in him, he it is that bears much fruit, for apart from me you can do nothing." An easy season in life has a way of blinding us to our need for God and so we quickly forget him. Moses was well aware of this when he told the people in Deuteronomy 6:10-12,

10 "And when the Lord your God brings you into the land that he swore to your fathers, to Abraham, to Isaac, and to Jacob, to give you—with great and good cities that you did not build, 11 and houses full of all good things that you did not fill, and cisterns that you did not dig, and vineyards and olive trees that you did not plant—and when you eat and are full, 12 then take care lest you forget the Lord, who brought you out of the land of Egypt, out of the house of slavery.

God said he would provide in a huge way for his people. By his grace, they would inherit a land that was already set up for them. It would already have cities, houses, food, and water that they did not have to work for. Their lives would become much easier compared to the forced labor that they had experienced in Egypt. But Moses knew that this would come with danger. The people were well aware of their need for God when life was hard in Egypt but Moses knew that when their lives became easier that they would need to be encouraged to remember the Lord.

Our need for God does not change based on the ease or difficulty of our season in life, but our sense of that need can be changed, for better or for worse, based on our situation. Let us heed the encouragement of Moses, to remember God when life is easy. Doing so will give us great humility and will honor God because we will be acknowledging our need for God's help and admitting our inability and weakness.

3. Gospel Amnesia
On this side of the cross, under the new covenant, Christians are not exempt from the call to remember. Paul exhorts the Corinthians in 1 Corinthians 15:1-5,

Now I would remind you, brothers, of the gospel I preached to you, which you received, in which you stand, 2 and by which you are being saved, if you hold fast to the word I preached to you—unless you believed in vain. 3 For I delivered to you as of first importance what I also received: that Christ died for our sins in accordance with the Scriptures, 4 that he was buried, that he was raised on the third day in accordance with the Scriptures, 5 and that he appeared to Cephas, then to the twelve. (Emphasis mine)

I think all Christians are susceptible to what I call gospel amnesia. We understand that the gospel is necessary for salvation but we often act as if that is where our need for the gospel ends. We forget what Paul said here to the Corinthians, that we not only are saved by the gospel but we "stand" and "hold fast", post salvation, to the gospel. None of us ever graduate from our need to remember the gospel. A people who daily remind themselves of the gospel will be a people who worship well, connect well, serve well, make disciples well, and glorify God well. Remembering the death and resurrection of Jesus is not an add-on to the Christian life; it is essential. Fixing our eyes on Jesus and his work is the only thing that will cure our gospel amnesia. This act of remembering is a daily spiritual discipline.
My prayer is that Trinity Bible Church is full of people who remember what God has done in the past, who remember God whether life is easy or hard, and who fight daily against gospel amnesia. So, let me ask you…

Hows your memory?